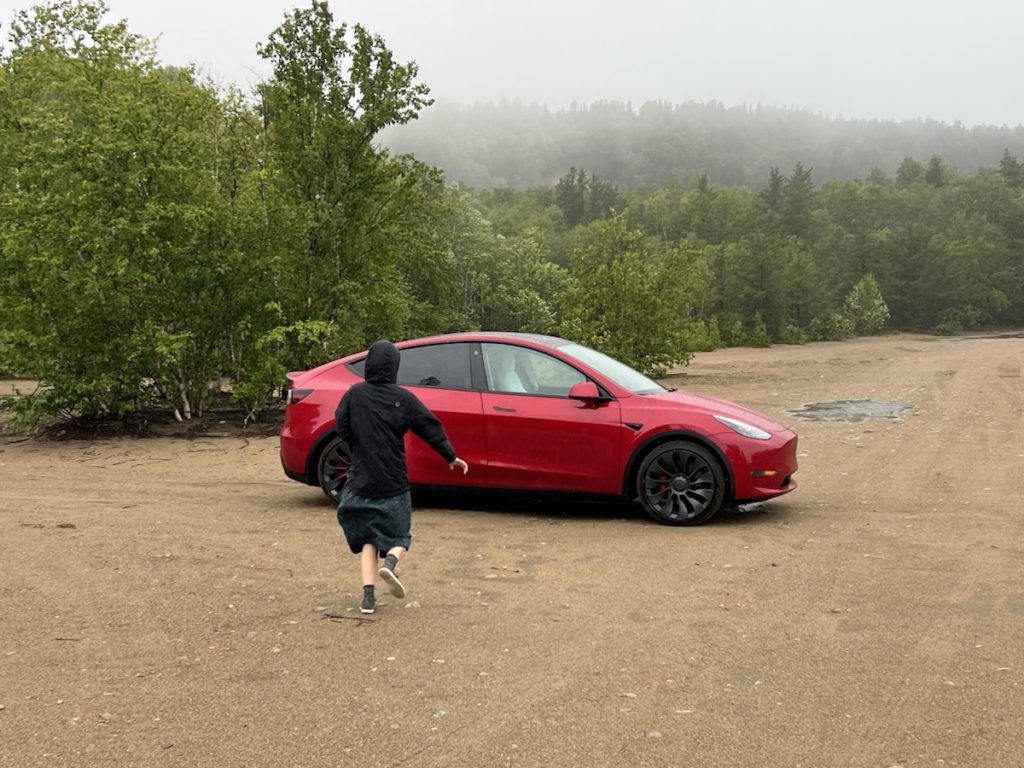 Car rental hasn't been the same since Covid. It was sold out everywhere for a while, then the price basically doubled. When planning my Montreal-Quebec City-Tadoussac trip, I found most car rental agencies at the Montreal airport were sold out, so the remaining options were either small agencies for ~$100 per day, or Turo. Turo had some interesting options including a Tesla Model Y 2022 for about $160 per day. I always wanted to try a Tesla on an actual road trip, so I took the plunge. It's also the first time I rent from Turo.
The pickup process surprised me a bit. The owner (or more like a car manager?) was waiting for me at the airport arrival curbside when I landed. I don't know how he managed to park there for so long, lol, but it couldn't be more convenient for me. He also gave me a brief of the car. Definitely felt more "white glove" than a usual car rental.
The fun began when I started driving. I'm not really a fan of car "performance". But man there are so many configurations to fiddle with, on a huge screen and as a phone app! It felt more like a huge tech gadget. The single-pedal driving control took me an hour or two to get used to, but was not a problem at all. It was really nice to use phone as key, and to have lights/wipers all automated. As a rental I didn't have access to autopilot, but I probably wouldn't really trust my life on it yet…
Now, on charging. For the first two nights in Quebec City, I stayed at a hotel with two Tesla chargers in the parking lot, so it was very easy to fully charge the car overnight. The third day I drove from Quebec City to Saguenay then Tadoussac. I didn't charge the car during lunch at Saguenay, and took some side trips and stops along the way. So when I finally started driving to Tadoussac, an 800-person village, I found the battery would drop to 1% when I arrive, and the car warned me to stay below 95 km/h to "reach the destination". There were no charging stations whatsoever until Tadoussac. So I turned off AC and used cruise control to maintain the speed constant… when we rolled into the first charging station, there were no charging poles! Later on I found Tesla navigation located that non-Tesla charging station a few hundred meters off. We drove to the second charging station in the village and found two charging poles, but the power plug doesn't fit the adapter I had in the car! I called the car owner, he assured me I could at least use a usual power plug to slow charge… I then asked the hotel front desk and found there was another charging station right across the road at where I parked, which couldn't be found on Google Maps.. thank god this one worked with the adapter I had. It was slow but enough to prevent the car from becoming a dead weight… I parked my car there charging. Two hours later someone unplugged it… I guess they need the charging station more.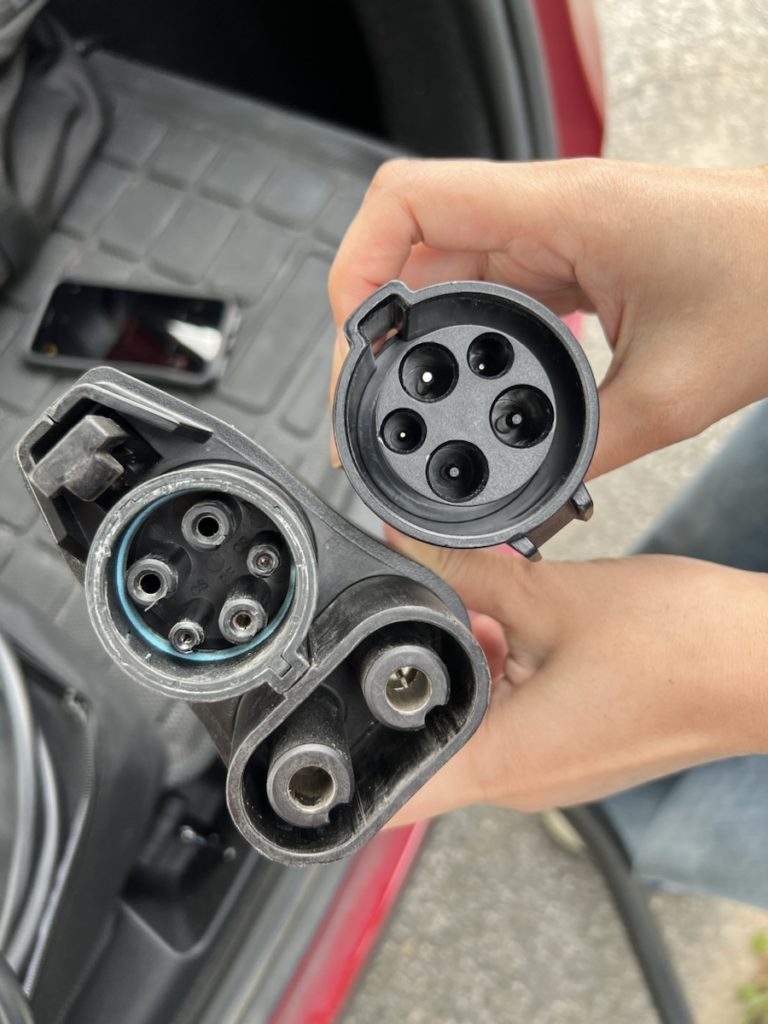 I used Tesla superchargers a few times on the way back. It was impressively fast, 20 times faster than the one that saved me in Tadoussac. The locations of superchargers also seem to be nice so you have something to do while charging. One of the chargers we stopped at was at an ultra-modern SPA hotel. We appreciated the hotel design and had a great lunch there.
A notable shortcoming I noticed while driving was the loud tire noise. It wasn't unacceptably loud, but was definitely louder than SUVs and some sedans. The car doors also felt a little flimsy when shut. Overall it's a fancy car, but doesn't feel high-class or luxurious.
I was a little surprised to find Tesla doesn't work with Apple CarPlay or Google Maps. Tesla navigation was ok, and shines at planning charging stops. But it's not as good as Google maps. It located a third-party charging station wrong for me, and sometimes gave dubious directions with "unnamed roads". I also couldn't "add a restaurant along the way while checking their detour time and reviews" like what I often did on Google Maps.
Summary:
Pro: feature-rich
Pro: power
Pro: driving range is pretty good (400km)
Pro: supercharger was nice, and cheaper than gas
Con: tire noise
Con: no Google Maps or Apple CarPlay
Con: charging requires more planning and forces some idle time when stopping for charging, and it becomes a challenge in remote destinations
Verdict: I'd consider a Tesla if I'm staying at a hotel with chargers. For road trips to remote places, I will stick to gas for now.